Here comes SuperSurv 3.3 for Android! To meet the great needs of high accuracy field survey and better data collection workflow via smart device, SuperSurv announces the latest version, allowing users to make the best use of the raster dataset and survey with professional external GNSS receivers. The system that has been being refined for bringing better user experience and great performance, now fully extends and strengthens your field survey experience.
SuperSurv is an efficient mobile GIS App designed for field data collection on Android and iOS platforms. Integrating with GIS and GPS technologies, SuperSurv provides the functions like Map Display, Query, Measure, etc., and supports to overlay OpenStreetMap as the basemap. Also, users may capture point, line and polygon features and attribute data, and save the data as SHP or GEO format on both offline and online modes.
The raster files in MrSID and JPEG2000 now can be joined in the project with regular vector files, bringing the perfect mapping for survey. Since diverse users use online basemaps for field works, we enhance the OpenStreetMap project in SuperSurv 3.3 to automatically zoom-in to the best fit view of current position. The Screen Lock,  another friendly setting designed for forestalling adding unnecessary point or vertex while data collecting via GNSS, significantly reduces time of post editing and error checking.
With the newly added external GNSS device connection function, users now can choose between internal/external positioning information sources via Bluetooth communication. Both general and professional high-accuracy GNSS receivers are supported; so that user don't need to be worried about the command lines and communication settings but leave all the complex work to the system. The embedded NTRIP service settings allow users to setup and employ the sub-meter survey. Just some few steps for highly-qualified position data collection, SuperSurv 3.3 brings users modernized and brilliant field survey experiences!
Advanced external GNSS devices and data collecting functions are fully supported and available on SuperSurv Pro. For SuperSurv M3, these newly added functions come as an optional plug-in which allows users to buy and download for power up your field work.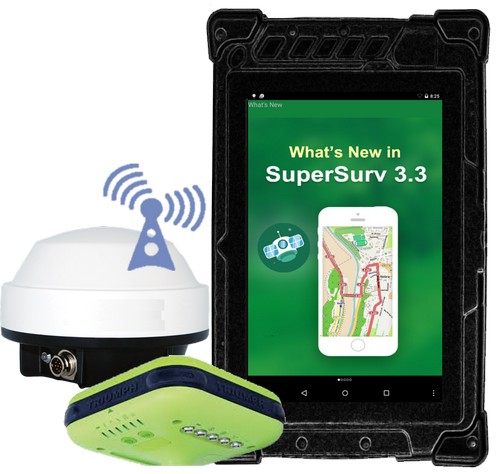 #  #  #
About Supergeo
Supergeo Technologies Inc. is a leading global provider of GIS software and solutions. Since the establishment, Supergeo has been dedicated to providing state-of-the-art geospatial technologies and comprehensive services for customers around the world. It is our vision to help users utilize geospatial technologies to create a better world.
Supergeo software and applications have been spread over the world to be the backbone of the world's mapping and spatial analysis. Supergeo is the professional GIS vendor, providing GIS-related users with complete GIS solutions for desktop, mobile, server, and Internet platforms.