On Day 2 at FOSS4G-Asia, keynote speakers presents the evolution of their overall Open source community (ex. Thailand, Japan). Thailand presents how its annual Open Source Software Festival that is held there since 1999 became the root of its movement and Japan OSGeo show that Chapter funded by companies as a way of sustainable solution to support local OSGeo organisation.
Maria Brovelli from Politecnico di Milano in Italy discussed how Digital Earth projet around the world should look more at the Internet of Places and build more freedom around it with FOSS4G. She was making connections between the Internet of Things to Internet of Places, because of 80% of all big data coming from different sources can be located on a map. She expressed interest to GIS specialist to work on Cartographic Mashup, multiple GeoCatalog links together, processing server-side service  (ex. WPS – Zoo) especially for mobile device and not always start from scratch but build on top of FOSS4G project already in development.
Kazeem Owolabi, from a US NGO called eHealth Africa based in Kano, Nigeria presents the use case of polio eradication project and Ebola response outbreak in Nigeria. His presentation highlight the role GIS plays in the vaccine delivery & routing to remote areas in Northern Nigeria.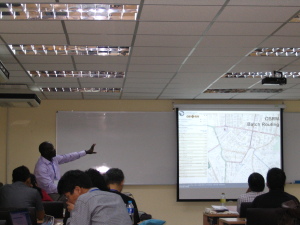 To effectively deliver vaccine to those areas and get 80% of the target population to get polio vaccine to young people, mobile application (Open Data Kit, Formhub), Open Data community (OpenStreetMap roads with Humanitarian OSM Team) and many GIS tools such as: OSRM, QGIS (delivery analysis), MapServer & CKAN were used and supports the NGO to achieve its mission. Nigeria as one of third country still having polio might look by the end of to be polio free. With all this achievement using technology for public health purposes proves also that to be useful for Ebola in Nigeria in the recent outbreak and acheiving to stop the spread in the Lagos area: