The Department of Civil Engineering in De La Salle University, Philippines selected SuperGIS Desktop and Analyst Extensions to establish a superior education and research environment to cultivate the first-class personnel for the public infrastructure in the Philippines.
As one of the best universities in the Philippines, De La Salle University has achieved outstanding performance in many fields, such as politics, science, biology, especially in the engineering fields. It is also awarded as "The Chief Center of Development" in the rapidly growing country.
With the increasing demand for public engineering in fast-developing Philippines, De La Salle University utilizes SuperGIS Desktop to conduct various spatial analyses to provide reliable reference data for infrastructure and offer the first-class lecturers with suitable teaching resources to train the best engineering personnel.
" SuperGIS Desktop  help us elevate infrastructure planning and analyses efficiently. The GIS software provides an easy-to-use interface and handy tools to easily process our current CAD data. The comprehensive analyst extensions also help us examine our spatial data with more perspectives." said by the Civil Engineering Department, De La Salle University, Philippines.
Join SuperGIS Webinar to learn field work tips for advanced GIS tasks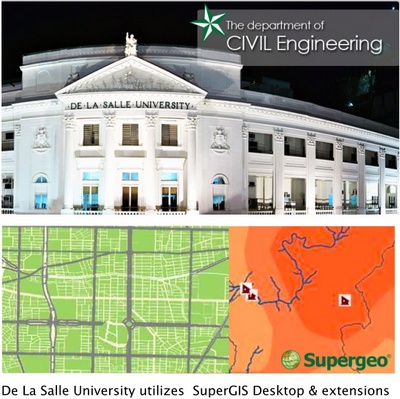 #  #  #
About Supergeo
Supergeo Technologies Inc. is a leading global provider of GIS software and solutions. Since the establishment, Supergeo has been dedicated to providing state-of-the-art geospatial technologies and comprehensive services for customers around the world. It is our vision to help users utilize geospatial technologies to create a better world.
Supergeo software and applications have been spread over the world to be the backbone of the world's mapping and spatial analysis. Supergeo is the professional GIS vendor, providing GIS-related users with complete GIS solutions for desktop, mobile, server, and Internet platforms.